One of our latest completed projects in palm springs on commercial epoxy concrete floor 1 day project we also service cathedral city , palm desert, moreno valley , riverside contact us for more details at 800-930-5421 send us an email at
info@radiantstonecare.com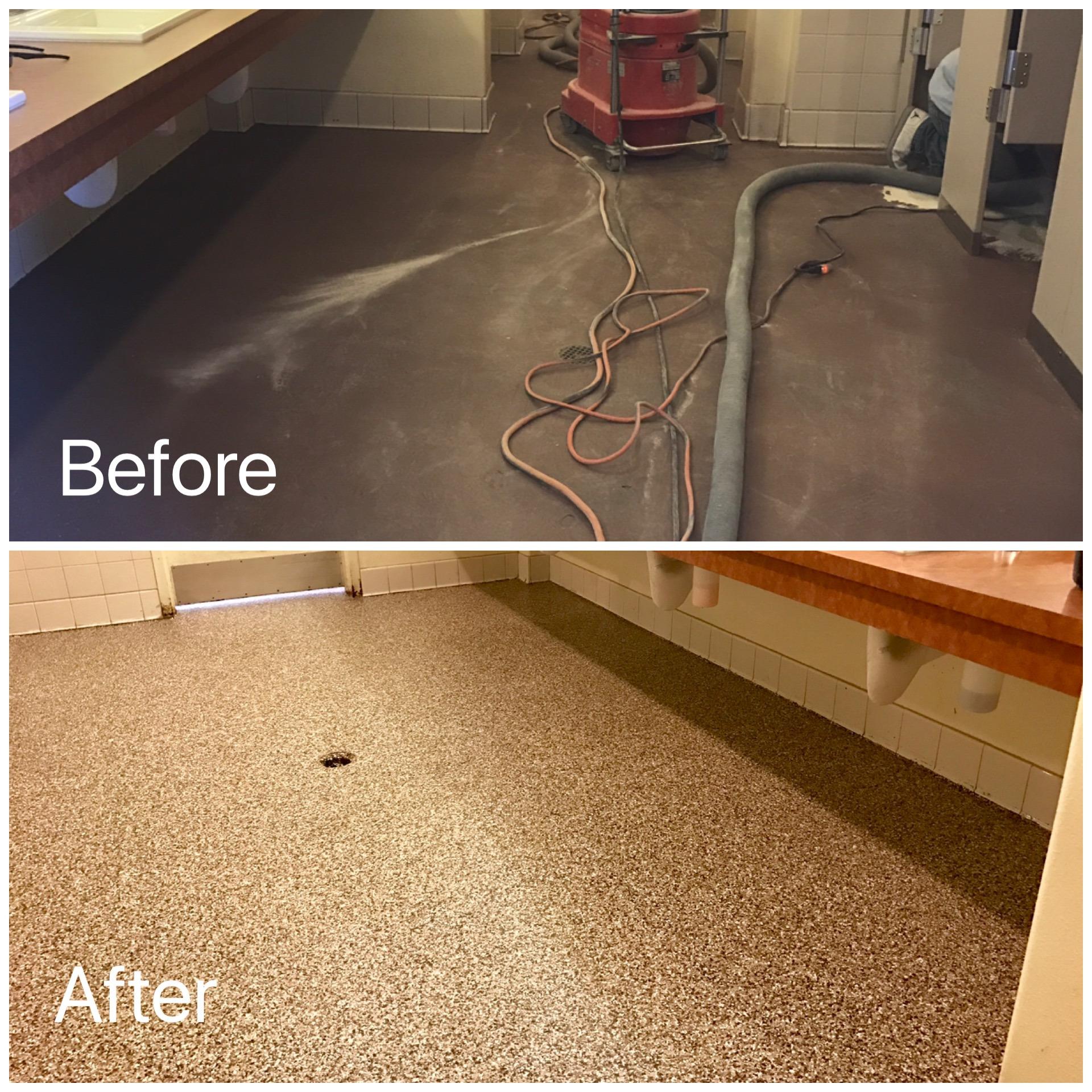 Call Us Today For a FREE Estimate!
radiantstonecare.com
Radiant Stone Care, The authority on natural stone care in Southern Ca. would like to thank our patrons for making us the fastest growing natural stone restoration company in Southern California. Our service and work ethic has proven that hard work, dedication to our craft , quality of service, and ...
Tumbled travertine tile repair courtesy of radiant stone care, "the authority on natural stone restoration and repair in southern ca. ". True master craftsmen at work. using epoxy and grinding we are able to not only re-secure travertine tiles but also mix the colors to blend the crack into the stone making it virtually invincible. travertine restoration travertine buffing and sealing, travertine honing, travertine floor cleaning has been one of our specialties for many years our team of technicians will bring out the absolute best in your stone our estimates are free of charge and with no obligation. .....call us or visit us at
radiantstonecare.com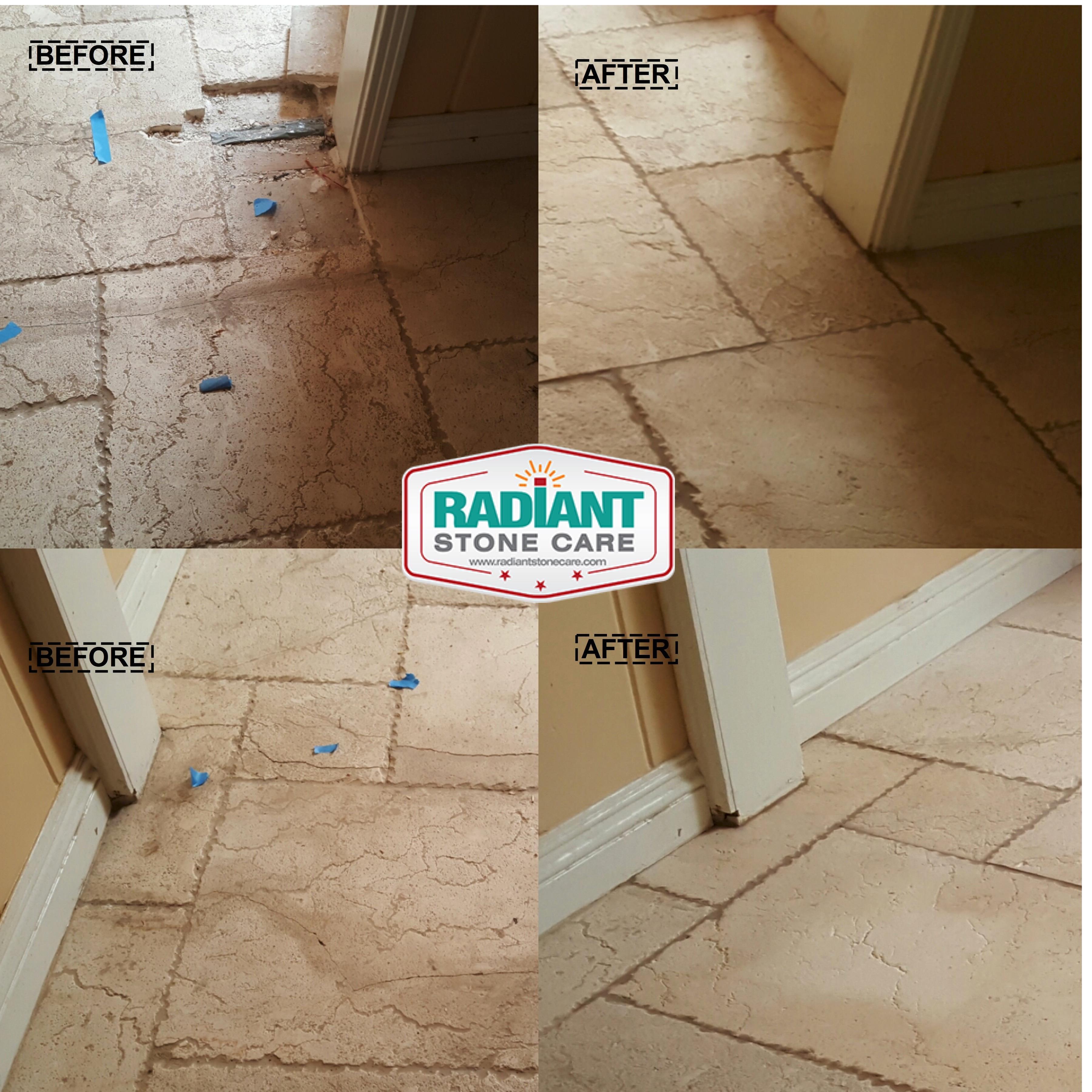 It`s always a great pleasure receiving such praises and appreciation from such distinguished people as Ms Dee dee B.. Marcos And Jr did an amazing job fixing this travertine countertop this travertine repair was done by resecuring the pieces and mixing epoxy to make sure that the piece would not come undone , we used the same procedure we use on travertine floor restoration or thravertine floor cleaning and sealing, and travertine floor repair Thank you dee dee for your kind words as we look forward on you enjoying your tabletop for many years to come...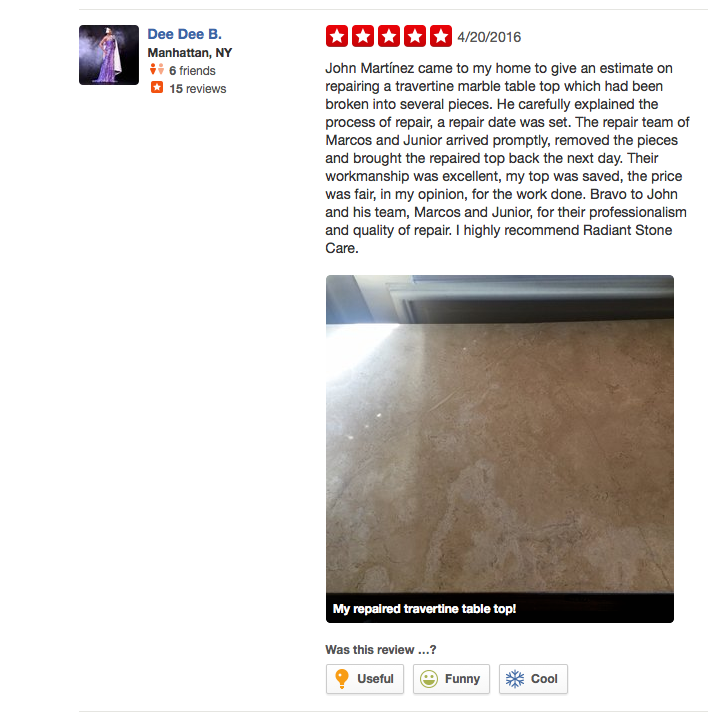 another amazing granite countertop repair, courtecy of our master technicians at radiant stone care, The authority in southern california for granite countertop crack repair,granite polishing, granite countertop cleaning and sealing, granite repair ,granite re-secure, serving the cities of Irvine, orange ,all through out the coast, Coto De Caza Laguna beach , Laguna Nigel, Huntington beach , Beverly hills and all though out ventura county, Los Angeles county, this specific repair was done in about 5 hours by resecuring broken pieces and epoxying cracks and holes among many other steps , our work is guaranteed and this crack repair will last for many years....